Our Blog
GCU President/CEO October Report
October 11, 2019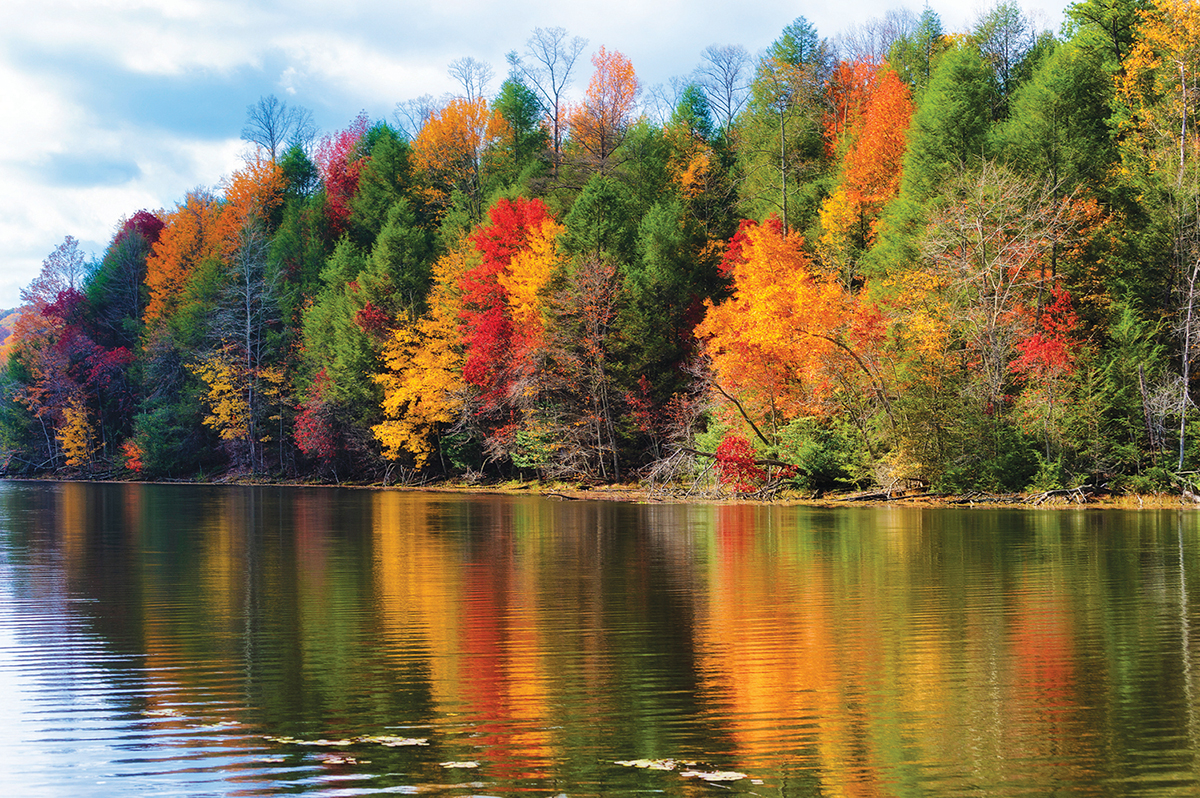 "Nature" is truly breathtaking with all the color and landscape that God has provided for us to enjoy!
The lazy days of summer are well behind us! Here in Western Pennsylvania we experienced very wet weather for the most part in May and June. However, since then the following months gave us one of the longest stretches I can recall, where we can truly be thankful for a most beautiful summer! "Nature" is truly breathtaking with all the color and landscape that God has provided for us to enjoy! I do hope you and your family had an opportunity to visit the many creations of nature—my favorite is always the beach!
Well it's on to Fall and talk about colors! Although summer may be my favorite season, I do look forward to the incredible change in the landscape that occurs before our eyes as nature transitions into its "winter slumber"! I remain hopeful as we move into October that we will enjoy an "Indian Summer." As a youth, I often heard discussion amongst my grandparents and parents about "Indian Summers."
In my research, an Indian Summer is a period of unseasonably warm, dry weather that sometimes occurs in autumn in Northern America. In an article on the US National Weather Service's website, weather historian William R. Deedler writes that Indian Summer is defined as "any spell of warm, quiet, hazy weather that may occur in October or even early November" [1] It is usually described as occurring after a killing frost.[1]
Late-19th century Boston lexicographer Albert Matthews made an exhaustive search of early American literature in an attempt to discover who coined the expression.[2] The earliest reference he found dated from 1851. He also found the phrase in a letter written in England in 1778 but discounted that as a coincidental use of the phrase.
Later research showed that the earliest known reference to Indian Summer in its current sense occurs in an essay written in the United States in the late 1770s (probably 1778) by J. Hector St. John de Crevecoeur. The letter was first published in French. The essay remained unavailable in the United States until the 1920s.[3]
Although the exact origins of the term are uncertain,[4] it was perhaps so-called because it was first noted in regions inhabited by Native Americans, or because the Native Americans first described it to Europeans,[5] or it had been based on the warm and hazy conditions in autumn when Native Americans hunted.[4]
The GCU has been very fortunate, that no matter what the "season" may be, it has experienced sound growth and financial success! Enclosed in this issue of the GCU Magazine is a detailed 2019 second quarter report presented by our Chief Financial Officer, Tim Demetres, located on page 4. We continue to experience excellent asset and surplus growth in addition to generating excellent profitability.
On behalf of the GCU's Board of Directors, our Executive Officers, Department Managers and Supervisors and our entire support Staff, I am proud to announce that as of July 31st, 2019 the GCU now exceeds over $2 billion in assets. We express our sincere gratitude to our members and agents for entrusting the GCU with your and your clients' life insurance, annuity and Medicare Supplement needs!
Fraternally, the GCU and our members continue to uphold our Society's Mission of "Protecting Families, Promoting Faith and Fraternalism, Strengthening Communities." We once again express our appreciation to our Lodge and District Officers for organizing a wide array of fundraising, volunteer and social events for our churches, communities and members.
The GCU's 2019 National Golf Tournament was held this past August and was hosted by our own Seven Oaks Country Club. We once again partnered with Slovak Catholic Sokols attracting over ninety participants from both societies. Our sincere thank you to Basil Wahal, GCU Communications and Fraternal Director and Jim Matlon, SCS Director of Sports and Athletics and their respective support staffs in providing both society's members a "great time" and for once again organizing a most successful event. I personally participated in the event and received very positive feedback from each of the participants. We are researching the prospects of scheduling the National Golf Tournament at Seven Oaks once again in 2020!
The GCU will be partnering again with the Slovak Catholic Sokols and the First Catholic Slovak Union for the 2020 National Bowling Tournament that will be held in the Cleveland area. More to come as to the details on both events for 2020!
As I mentioned in my prior article in the GCU Magazine, in an effort to encourage more GCU members to participate in the fraternal mission of the GCU, we will be initially testing the establishment of state lodges that will complement our current lodge system. Our test market will be Northeastern Pennsylvania, Northern New Jersey and select areas of New York as we identified these areas as having a large population of GCU members. This plan calls for the hiring of a Regional Fraternal Coordinator whose primary duty would be to engage more GCU members in activities sponsored by the GCU or partnering with communities or organizations that already hold popular fundraising and volunteer events our GCU members may already be familiar with. Enclosed on page ?? are details related to the duties, responsibilities and skills requirement for this position.
The GCU world is saddened by the passing of Very Reverend Archpriest Dennis M. Bogda. Father Dennis was a staunch supporter of the GCU as he served as Chaplain for several GCU lodges over the course of his assignments and was elected in 2004 as a member of the former Supreme Tribunal. A tribute to Father Dennis is in the October GCU Magazine located on page 44.
In closing, there are so many exciting things happening at GCU as we prepare for our future! We now have our sites set on reaching the $3 billion mark as what we are planning today will allow the GCU to continue to prosper now and well into the future. I would like to once again share with you one of my "lines" that I have used over the course of my years serving as you President and CEO that never seems to become irrelevant in the business world as we know the only thing constant is "change" as we must continually "Forge the GCU of Tomorrow – Today"!
Enjoy the "Indian Summer"!
GOODNESS IS GREAT!
George

1. Deedler, William (Fall 1996). "Just What Is Indian Summer And Did Indians Really Have Anything To Do With It?". Detroit/Pontiac, MI: National Weather Service Weather Forecast Office. Archived from the original on October 9, 2014. Retrieved September 24, 2014.
2. Matthews, Albert (February 1902). "The Term Indian Summer". Monthly Weather Review. 30 (2): 69–80. Bibcode:1902MWRv...30...69M. doi:10.1175/1520-0493-30.2.69c.
3. Sweeting, Adam W. (2003). Beneath the Second Sun: A Cultural History of Indian Summer. New Hampshire. p. 14-15. ISBN 978-1-58465-314-1.
4. "Hints of an Indian Summer". BBC. Retrieved September 19, 2015.
5. "Indian summer". Online Etymology Dictionary. Retrieved September 19, 2015.