Charitable Giving
Giving is Good for Everybody.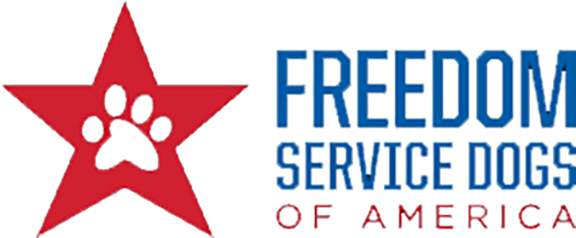 Cause of the Quarter
Each quarter GCU chooses a charity to raise funds and awareness for on a local and national level. It's one way we give back and invest in the greater community. Donations are made through the GCU Foundation, a 501(c)(3) charitable entity organized by GCU. Total donations of up to $2,500.00, made through the GCU Foundation in the second quarter of 2019, will be matched by the GCU Board of Directors. The Cause of the Quarter also benefits from sales of the GCU Culinary Chronicle Cookbook-$1 from each book sold goes directly to the Cause of the Quarter.
Cause: Freedom Service Dogs
The April-June 2019 Cause of the Quarter at GCU will benefit Freedom Service Dogs.
Freedom Service Dogs (FSD) develops Client-dog teams consisting of a person living with a disability and a highly trained dog. Their clients live with disabilities like autism, traumatic brain injury (TBI), multiple sclerosis (MS), muscular dystrophy (MD), Down syndrome, cerebral palsy (CP), spinal cord injuries, and more. They also serve veterans with post-traumatic stress (PTS); however, they do not provide service dogs for non-military civilians diagnosed with PTS.
Professionally trained service dogs can assist their human partners with a variety of tasks, such as retrieving and carrying objects, opening and closing doors, operating lights, pushing 911 and medical alert buttons, assisting with mobility, and other specialized tasks needed by the client.
Service dogs are legally guaranteed full public access and are able to accompany their partners to all public places, including stores, the airport, work, school, and restaurants. FSD provides ongoing lifetime support and hands-on assistance to all client-dog teams—at no charge.
GCU Home Office
The GCU home office has relationships with many excellent charities, including:

The American Cancer Society
Variety - the Children's Charity
Susan G. Komen for the Cure
Boy Scouts of America
The Salvation Army Project Bundle-Up
Toys for Tots
Sisters of St. Basil the Great
Byzantine Catholic Seminary of SS. Cyril and Methodius
Lodges & Districts
On a local level, our lodges and districts have supported countless causes, including:
The Seeing Eye
Catholic Charities
Operation Christmas Child
Hot Metal Bridge Faith Community
Linden Food Bank
St. Vincent DePaul Society
Tomorrow's Hope
Many more