Our Blog
GCU President/CEO February Report
February 9, 2022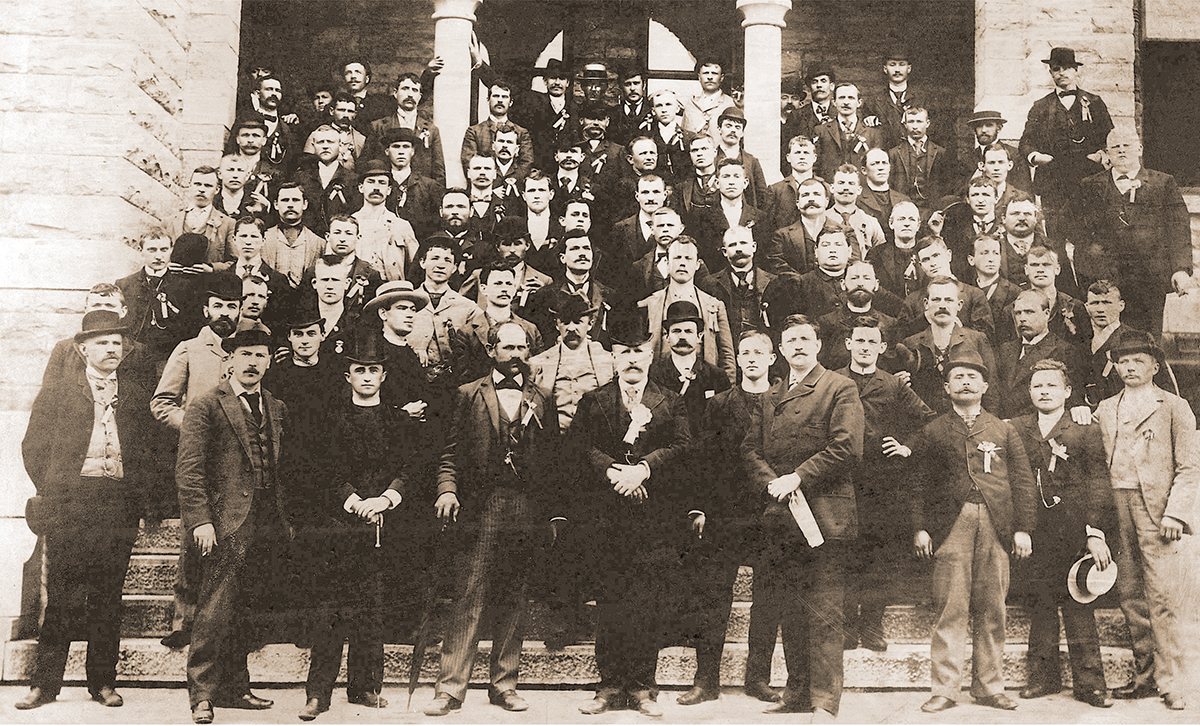 Celebrating 130 Years of Trust & Protection
On February 14th, the GCU celebrated its 130th anniversary as our Society was founded on February 14, 1892 in Wilkes-Barre, Pennsylvania at Saint Mary Byzantine Catholic Church. Over the course of our one hundred and thirty years, the GCU has had an abundance of blessings that also came with many challenges. The success that GCU enjoys today is a tribute to our Founding Fathers and the many past administrations that weathered many difficult storms by having first and foremost a deep faith in God and always keeping our members best interest at the fore front. This year I will be presenting some "tidbits" of historical information in each of my articles, from our humble beginnings noting a multitude of accomplishments and challenging events that occurred that were successfully managed.
Did You Know?
Our Humble Beginnings
* The GCU was founded with a purpose of unifying independent fraternal brotherhoods that were organized in various Greek Catholic/Carpatho-Rusyn communities into one national organization chartered as the "Greek Catholic Union," a fraternal insurance company.
* The initial brotherhoods served many purposes with a primary focus to provide financial support to the families that lost loved ones employed in very dangerous occupations in the coal mines, iron ore mines and steel mills or if the breadwinner became permanently disabled as commercial life carriers deemed such occupations as laborers and miners as too risky to insure.
* The first operations office was in Mahanoy City, Pennsylvania.
* The initial face amount of a GCU life policy was $400.00.
* Fraternal Benefit Societies typically unite for a purpose, as the common bond of the initial brotherhoods was of ethnicity, Carpatho-Rusyn, and religious, Byzantine Catholic.
* Under the governance process conventions were held with the very first one being held in Scranton, Pennsylvania in 1893. The GCU's office would relocate to Scranton in February of 1896 and again relocate to New York City soon thereafter.
* Upon making their journey to the United States, a majority of the Carpatho-Rusin or Slovak immigrants were required to be processed at Ellis Island, a federal immigration inspection station located on an island in the State of New York. Many last names were changed as names were difficult to pronounce and spell such as Osbuskevich, Andrejczin, Duzbay and Bankziljak. Believe it or not, the very first President of the GCU was John Smith.
* President Smith was a successful businessman and became wealthy through a hotel and grocery store that he owned and operated in Mahanoy City, Pennsylvania. He was committed to the GCU's success and initially loaned money to cover initial deficits that were incurred. Dues and assessments were enacted to cover claims and operating costs, however the continued financial hardships and a decline in membership experienced during 1894 threatened the GCU's very existence. To combat this dire issue, an extensive membership drive was launched just prior to the feast of Saint Nicholas in December of that year employing GCU officers and members to pray to Saint Nicholas and ask for his intervention during this critical time. The results of this campaign were very successful as over 1,000 new members were enrolled. The month of December was then declared the season to conduct future membership drives and I am sure is also the reason that Saint Nicholas of Myra is the GCU's Patron Saint.
* So from the GCU's very beginning, challenges were presented and President Smith and the elected officers addressed these challenges with their deep faith in God, inspiration provided to them by Saint Nicholas, their desire and commitment in believing in the GCU and its Mission in providing life insurance and other humanitarian needs for the Carpatho-Rusyn and Byzantine Greek Catholic that opted to relocate to the America "driven by a thirst for economic adventure, in search of a land of freedom and opportunity."
(The historical information presented above was derived from the GCU's Publication – "Opportunity Realized – The Greek Catholic Union's First One Hundred Years 1892-1992.")
The GCU began its "humble beginnings" as a fraternal life insurance company with operational assets of $600.00 in total. GCU's current assets through September 30, 2021 now total $2.37 billion with surplus at $197.7 million. The primary factor contributing to this surplus growth is net income after dividends and capital gains/losses as $21.8 million was recorded through the 2021 third quarter. We are in the process of finalizing our 2021 year end financial report as we are expecting our financial goals and premiums to meet or exceed our 2021 budget. Again, our sincere thank you to our members and agents for the life and annuity business you have placed with the GCU that allows for our financial success to be achieved. President Smith and the initial officers of the GCU no doubt would be very proud of what their vision and plan has transformed into.
The GCU's financial success and operations has "so many moving parts" and "so many pieces to the puzzle" that must be addressed on a continual basis to keep the GCU on this continued successful path.
Our analysis and reports are verified by outside independent sources as required by law. We report on a quarterly basis our financial reports to the Pennsylvania Insurance Department as an audit is also conducted by the Department on a quintennial basis. We are also required to submit an audit to the Insurance Department each year that is performed by an independent certified public accounting firm that verifies the accuracy of the financial statements, performs an analysis of internal controls and risk exposure within various aspects of our operation to assure that we are in compliance with all standards that first and foremost protects our members' interest.
In addition to regulatory compliance many insurance companies seek a "second opinion" and opt to be rated by rating agency as well. The top five rating agencies are AM Best, Fitch, Kroll Bond Rating Agency (KBRA), Moody's, and Standard and Poors. Such agencies perform a detailed analysis that determines a company's financial strength and ability to pay claims. The GCU is currently rated by KBRA and we are most pleased to announce that the GCU's rating has recently been elevated to A- with a stable outlook. Our prior rating was BBB+ with a positive outlook. KBRA's Survelience Report is located beginning on page 1 for your review in our February Magazine.
GCU's Humanitarian efforts continue despite the current state of the COVID-19 Pandemic that has impacted the ability of our lodges and districts to conduct fundraising and volunteer events to assist with various needs within their communities and churches. We applaud the efforts of our officers and members of our lodges and districts that have continued to sponsor events under the current challenges. We invite you to review the fraternal section of this publication that presents those various activities that have been held.
Our members may not be getting out and about to support the GCU's Fraternal Mission, but I am most pleased by the financial support of our Kentucky Tornado Relief Program that was sponsored by the GCU Foundation. This program raised a record amount of donations from our members in the amount of $25,700.00. With the GCU's Matching Funds of $10,000.00, Catholic Charities, the Salvation Army and the American Red Cross each received $11,900.00 to assist the victims of this horrific natural disaster. THANK YOU!
Did You Know? Valentine's Day, also called Saint Valentine's Day or the Feast of Saint Valentine, is celebrated annually on February 14th. The Feast of Saint Valentine was established by Pope Gelasius I in AD 496 to be celebrated on February 14 in honor of Saint Valentine of Rome, who died on that date in AD 269.
An additional purpose of the establishment of the GCU was to spread love and friendship amount the Rusin Greek Catholic people living in America. I was not able to locate any information on why the date of February 14th was chosen to establish the GCU, but just maybe Saint Valentine had his hand in the founding of the GCU as well!
As always, please contact me with any questions for concerns you may have!
Happy Valentine's Day and Happy 130th Anniversary to the GCU!
Goodness is Great!
George N. Juba | President/CEO
Pictured Above is the first GCU Convention in Scranton, PA.
Pictured Below is St. Mary's Church in Wilkes Barre, PA.