Our Blog
GCU President/CEO August Report
August 15, 2019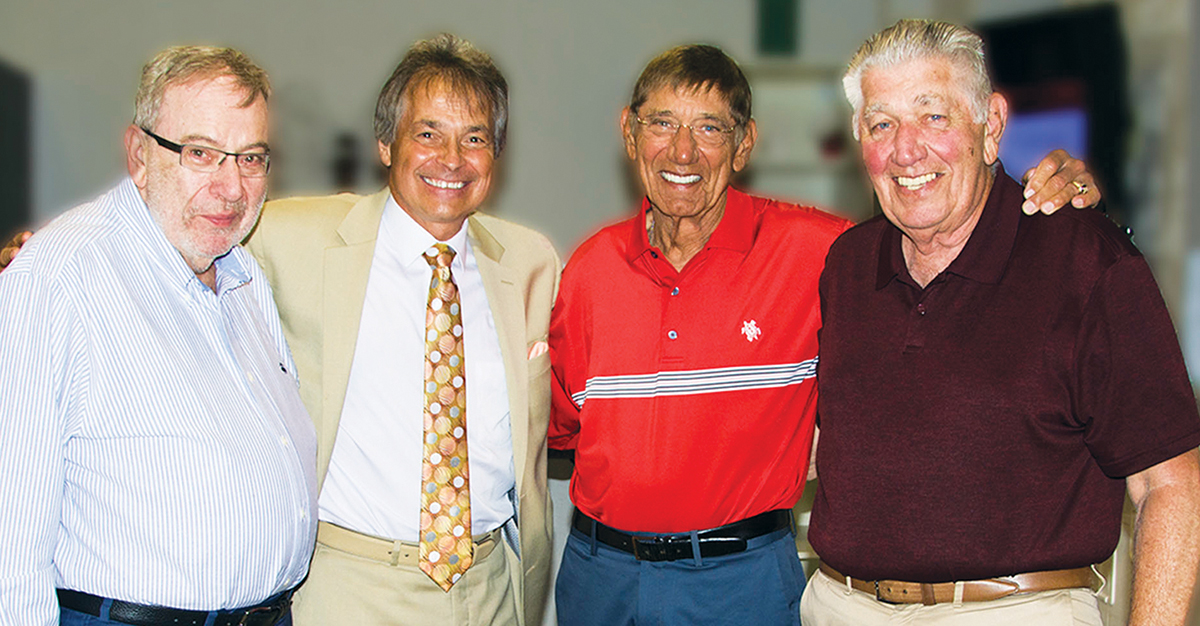 Pat Nardelli, GCU President/CEO George Juba, Joe Namath and Frank Namath.
The Human Touch
As I observed and experienced all of the technological innovations over the last twenty years or so, I do not necessarily embrace each and every one, especially those that do not necessarily have an impact for the betterment of mankind. I do especially admire and I am personally astounded by the incredible medical advancements that have taken place over my lifetime— transplants, drug treatments, durable medical equipment, non-evasive surgeries, robotic surgeries and the list goes on and on.
No matter what technological advancements are achieved, the human element can never be replaced by science. I applaud all health care professionals from the researchers, physicians, nurses, rehabilitation specialists, caregivers, ad-ministrators and all other professions associated with healthcare that certainly do contribute to the betterment of mankind!
In times of having to deal with health issues or unexpected incidents whether it occurs to yourself, a family member, a friend or the many tragedies we hear about each day, no technology could ever replace the human element. The love, support and concern received from a hug, a hand shake, a greeting card, a phone call, a handwritten note and some-times just having someone to talk to, can never be replaced.
Seven months ago, my son Christopher was involved in a very serious automobile accident. Our entire family cannot express enough gratitude to the entire medical staff at UPMC Hospitals that provided exceptional care to him from his initial surgeries to his rehab. We are so thankful to our family, friends, the GCU Board of Directors, staff and members as well as the Seven Oaks staff and members for your overwhelming outreach, financial support, thoughts and prayers as Chris continues to recover. THANK YOU!
There are so many needs that are not funded by government programs and tax dollars within our communities, they are supported solely by caring people. A segment of the GCU's Mission Statement is "Strengthening Communities," as this mission can relate to so many organizations throughout each and every community within our great Nation.
I was honored to be invited by Pat Nardelli, president of Castlebrook Development, to a recent reception sponsored by the Larry Bruno Foundation. As a point of information, Mr. Bruno was a legendary high school and college football coach. He coached teams for Beaver Falls and Rochester High Schools and Geneva College located in Beaver County, PA. The most recognizable player he coached is the legendary quarterback from Beaver Falls, Joe Namath. The Larry Bruno Foundation was established in honor of Coach Bruno and the young mens' lives he touched throughout his coaching career. The Larry Bruno Foundation fulfills the needs of providing scholarships and offerings to students from Beaver Falls and surrounding communities for their academic and athletic achievements.
I admire Mr. Namath. Despite the fame he achieved from his career as a quarterback for thirteen years in the National Football League, he has never forgotten his roots as a Beaver Falls native. He is an avid supporter of the Foundation and the Beaver Falls community, attending the annual achievement award dinner of the Foundation each year. Joe "Wil-lie" is doing great as you can see from the photo I had taken with "Broadway Joe," Pat Nardelli and Joe's brother Frank.
I am a graduate of the University of Miami of Florida and an avid Miami Hurricane football fan. One of the individuals I also met at the Foundation festivities was Mr. Glenn Dennison. Glenn played high school football for the Beaver Falls Tigers under Coach Bruno and went on to play college ball for the Miami Hurricanes. He was a top receiver for another legendary quarterback, Bernie Kosar. (By the way, Mr. Kosar is a GCU member.) Glenn and Bernie teamed up in 1983 to win the first collegiate national championship for the "Canes" where Glenn caught two touchdown passes to upset the Nebraska Cornhuskers 31 - 30. This is still considered one of the greatest games ever played in college football history. Glenn went on to play in the National Football League and International Football League. I enjoyed having a photo tak-en with Glenn as we show our support of the Miami Hurricanes with Glenn sporting his 1983 national championship ring. My congratulations to Glenn for being honored as an inductee into this year's Larry Bruno Foundation's Hall of Achieve-ment!
We hope that the GCU is considered a National Champion within the fraternal life insurance and fixed annuity market-place by our current members and agents. We continue to grow our assets and surplus and achieve excellent profitabil-ity. We project that GCU total assets will exceed $2 billion in the very near future. We are in the process of completing our second quarter financial reports with projected strong results. Chief Financial Officer Tim Demetres will be publishing the detailed second quarter results and his commentary in the October 2019 issue of the GCU Magazine. We once again express our sincere gratitude to our members and agents for the confidence you express by entrusting the GCU with your own and your clients' business.
Fraternally, we thank our lodges and districts for all the great planning of various volunteer, fundraising and social events. Our 2019 National Golf Tournament is being held at Seven Oaks Country Club this year in partnership with the Slovak Catholic Sokols. The event always promises a fun filled time with great fraternal comradery.
My article for this issue of the GCU focused more on the human element side of society as sometimes business and personal responsibilities take a front seat. My advice, which I should practice as well, is to "take time to smell the roses" as we never know what lies ahead! A smile, eye contact, a handwritten note and just a "hello" goes a much longer way than an email or text message! As Mr. Burton Brubaker stated, "It's So Nice To Be Nice".
Continue to have a safe and fun summer—there is still a lot of sunshine left to enjoy!
GOODNESS IS GREAT!