Member Story
GCU Members Officiate at PIAA State Championships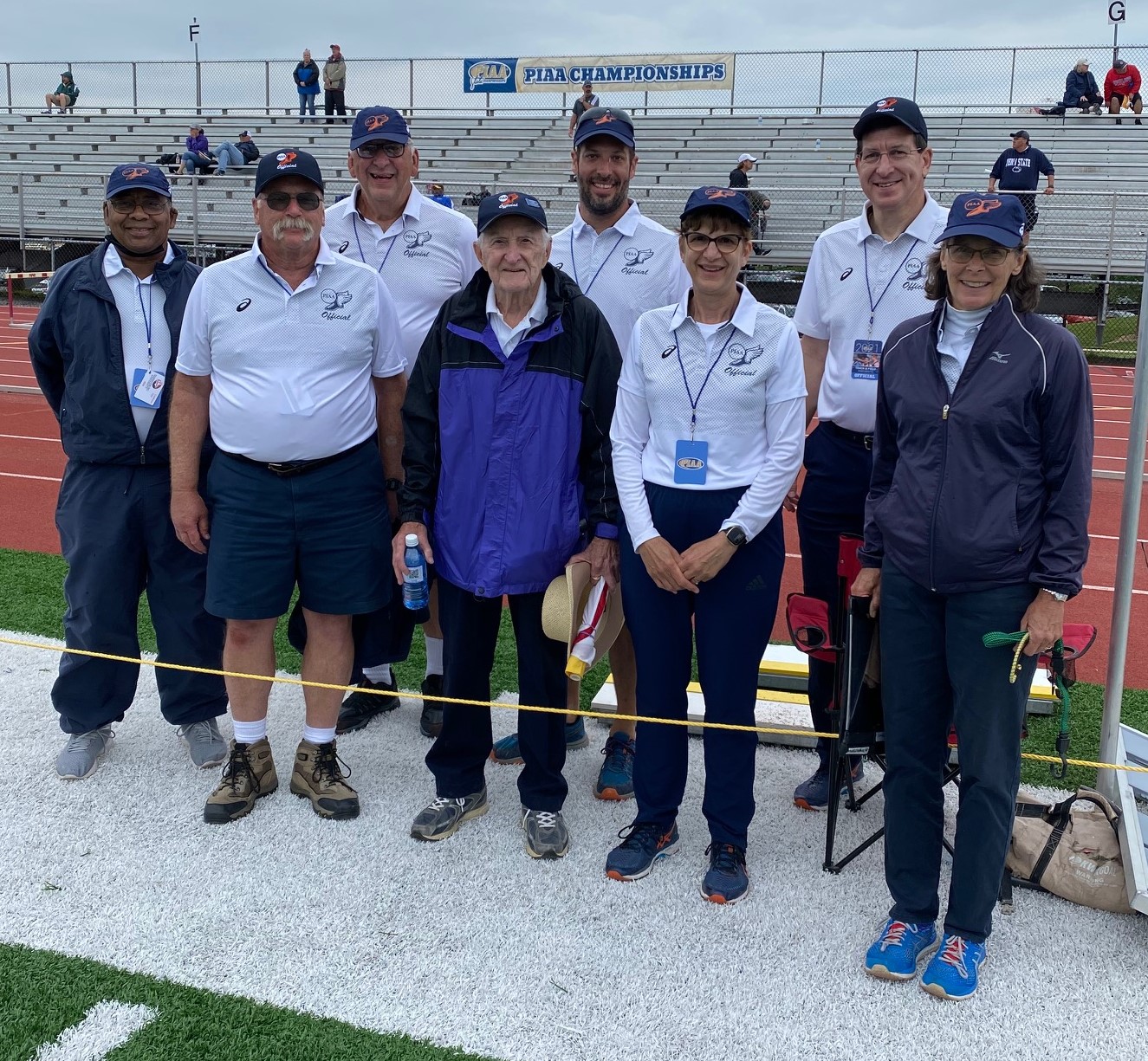 Barb and Bill Dzuricsko were honored to represent Mercer County and District 10 serving as officials for the PIAA Track & Field State Championships, held at Shippensburg University on May 28-29, 2021. Barb (front row, second from the right) and Bill (back row, far right) were part of an eight-person crew, with officials from Districts 3 and 6, needed to officiate the Triple Jump. Members of the crew rotated through the positions of: Wind Gauge Operator, Flight Coordinator, Tape Puller, Recorder, Board Judge, Marker and Rakers (2). All of the officials helped checking-in and inspect the athletes and their spikes; tack down two runway tape measures, one for each jumping board and carefully placing two new boards at the appropriate distances with levels and shims. This is the sixth year for Bill and the third year for Barb, working the PA State Meet.
Barb and Bill are members of the Lawrence County Chapter of PIAA Track & Field (TF) and Cross Country (CC) Officials. The Lawrence County Chapter serves the northern part of District 7, as well as the southern part of District 10. This year, the couple worked meets as far north in Pennsylvania as Meadville, Cochranton, Titusville and Jamestown, and as far south as Mohawk, Ellwood City and Seneca Valley. They also worked the 2019 PIAA Cross Country State Championships, as well as several NCAA Division II meets at Slippery Rock University, and TF meets for the NCSAA (National Christian School Athletic Association) at Grove City and Geneva Colleges.
Bill recently completed his 21st year of officiating Track & Field and his 10th year as the Rules Interpreter for the Chapter. He also worked the AA and AAA Girls Shot Put events at the District 7 meet this year. Barb has completed her 5th year as a TF and CC official and is the former District 10 Meet Director for TF (20 years) and CC (2 years). For the last four years leading up to the pandemic, they have attended a variety of TF & CC workshops at the PIAA Officials Convention in Harrisburg, PA, and in 2016, Bill gave a one-hour PowerPoint presentation entitled, "Officiating the Triple Jump." Each year all Lawrence County Chapter officials attend six continuing education meetings and a mandatory Rules Interpretation Meeting.
Barb and Bill Dzuricsko are members of GCU Lodge 258 and attend St. Michael Byzantine Catholic Church in Hermitage, PA where Fr. Kevin Marks is the pastor. Bill is president of Lodge 258, one of the cantors at St. Michael, and the ECF coordinator.
Pictured above is Barb (front row second from right) and Bill Dzuricsko (back row at right) with other members of the Triple Jump officials team.