Member Story
Author Dan Churach Publishes His Sixth Novel "EIGHT"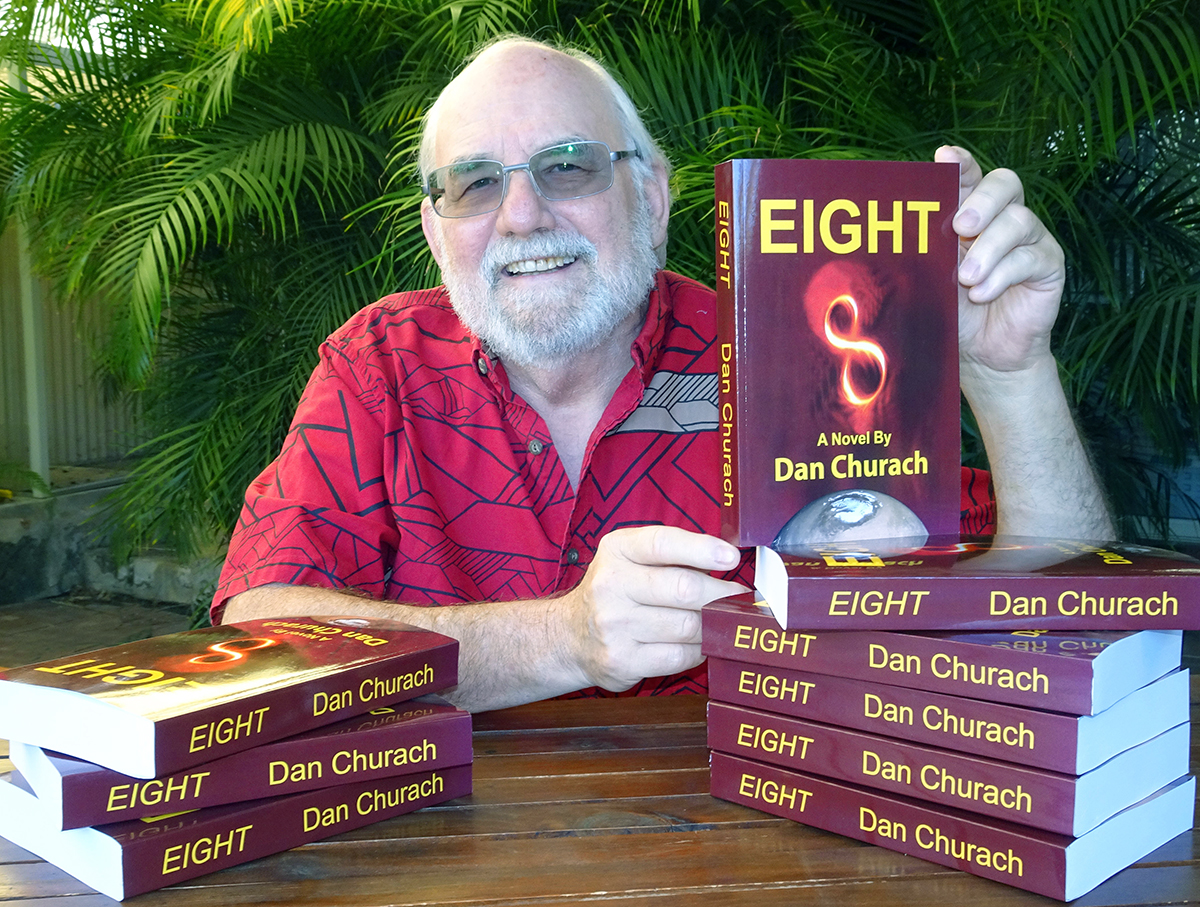 GCU member and author Dan Churach's has published his sixth novel EIGHT, which is available as a paperback or e-book from Amazon.com. Dan is a member of GCU Lodge 69 and one of its most distant members, living in Leeming, Wales.
EIGHT begins on Earth 2044… Nine-billion people struggle daily with first world problems in an environment suffering from the political inaction of prior generations.
EIGHT follows three stories entangled in a struggle with challenges presented by a global malady of solastalgia, the desperate craving many feel for a home that no longer exists. The ever-increasing number of ecological disasters results in feelings of helplessness experienced by so many adolescents. The loss of hope to ever gain access to a future like that of their parents drives the frequency of teen suicide to near-epidemic proportions.
EIGHT begins with a bullet-laden message delivered to Sunlyn Singh and Nicolás Ramos, two American journalists. Washington Police Detectives Harry Grimms, Maggie Patton and Ryan Bradshaw head the investigation that follows. They chase a convoluted trail through a bizarre series of leads, uncovering a sinister experiment that employs the hacking of personal, implanted SAMs – Subdermal Angel Microchips. Could this revelation help pinpoint the cause for the massive global increase in teen suicide?
Contemporaneously, the world's first trillionaire, Jacob Jacobi, funds a volunteer team on a one-way mission to Mars where his small group of scientists stumbles across evidence of alien life. The rush to determine the origins of their discovery competes against the pressure to release their findings to a global press corps demanding answers.
Australian ecopsychologist Kylie Childs and her Chinese colleague, Fiona Wu, team up with Singh and her Global News Network colleague, Owen Yates, investigating the story of the century. The journalist-academic team connects the life on Mars discovery to cultural, political and economic events playing out on Earth. Their search for answers takes them around the world, from Washington through Hawaii and Shanghai and across Australia.
EIGHT explores the curiosity of the human spirit to the very essence of all that makes us Homo sapiens. EIGHT investigates our origins, our evolution and the direction we may take from here in a thoughtful science fiction thriller that builds suspense until the startling conclusion.
All his books are available in both paperback or electronically from www.amazon.com or through Dan Churach's website at www.churach.com.