Lodge News
SEPRL August News
August 5, 2021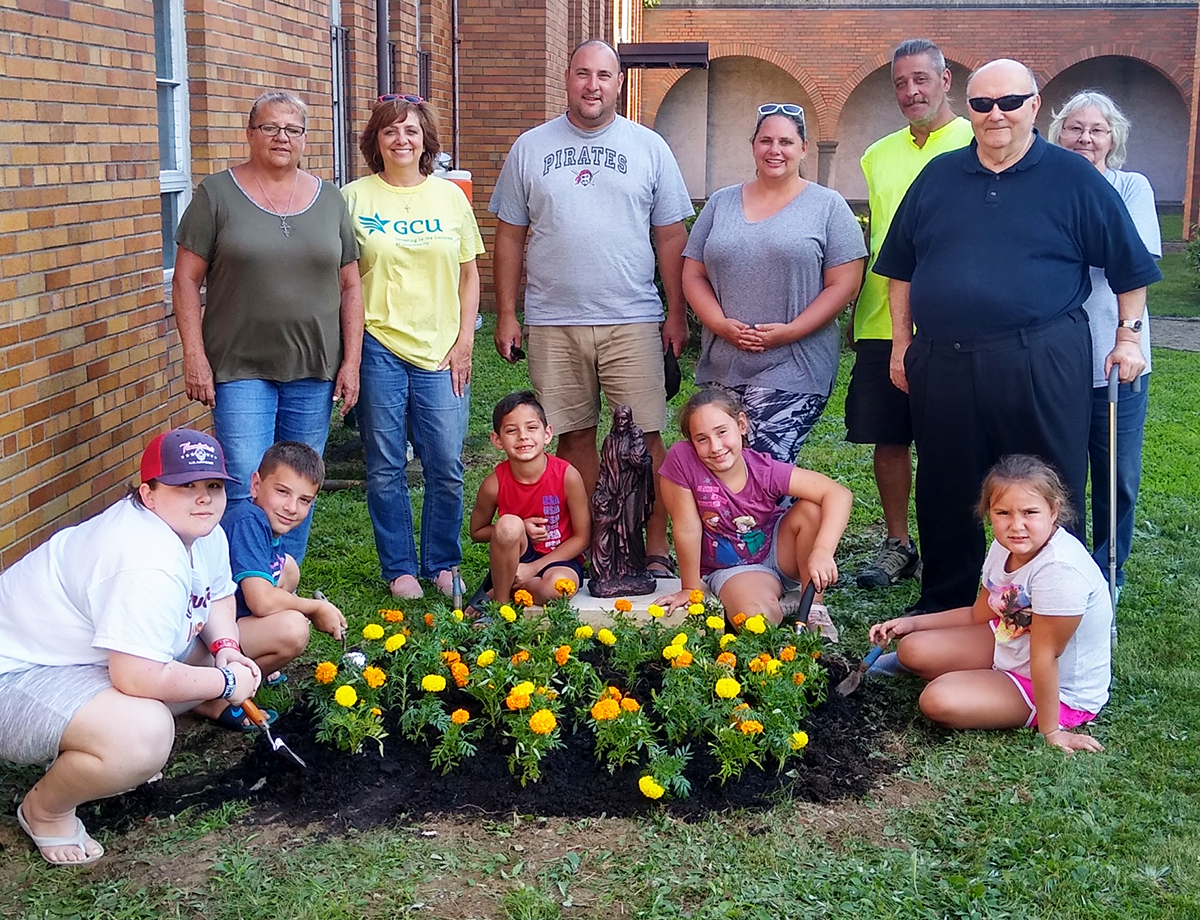 Helping Hands Day
St. John's Cathedral—This year's Helping Hands Day at St. John's Cathedral took place over Memorial Day weekend, May 29-30.
Flowers were planted in the flower bed outside of the front door, in the pots outside the side door and at the Parish house outside the front and office doors. Mulch was spread and deer repellent was sprayed to protect all of the hard work.
Ascension Church—The weather was great for a couple of the Helping Hands projects at Ascension Church in Clairton. The first project was weeding the parking lot and treating the sidewalks and curbs around the church, hall and rectory. Afterwards, the ECF children joined volunteers to plant a small flower garden of marigolds near the church. Some finishing touches needed to be added, but they were anxious for Sunday to come so everyone could see their work. Volunteers were invited to enjoy a Kentucky Fried Chicken dinner after their hard work.
Honoring Mothers and Fathers
On Mother's Day, Fr. Andrew Deskevich invited all of the women of the Cathedral parish to accept a carnation and a cookie in appreciation for all their time, talent and treasures. On Father's Day, Fr. Andrew thanked the men of the parish with a cookie for all of their help over the past year. It was great to know that all was appreciated on these two special days.
With the start of summer upon us, Helen Sowko and Trish Roberts celebrated Father's Day at Ascension Church, by greeting the dad's with cookies and carnations to honor their day. It was nice to be able to see their smiles as the flowers were pinned on their lapels!
Thank You Fr. Andrew
Even though everyone experienced the pandemic year and were unable to pray together as a community in church, parishioners of the Cathedral were able to pray together through the internet with Fr. Andrew. There were several fund raisers that Fr. Andrew was able to accomplish with the help of a small number of parishioners. Thank you Fr. Andrew for your dedication in serving the church and your parishioners.
Book Vending Machine
Kelly Gomolak-Bandik, a teacher at Clara Barton Elementary School in West Mifflin, PA, approached the lodge with a donation request to help purchase a book vending machine for her class. With the lodge's assistance, she achieved her goal. However due tothe pandemic, delivery was delayed for months. After much anticipation, the book vending machine finally arrived! Kelly sent a photo of her excited class and the unique machine that adds to the fun of reading as children drop in their coins and choose a book. Such an encouraging idea to expand their reading opportunities.
Upcoming Events
Some of the upcoming SEPRL fall events will include a clothing drive, coat/sweater drive, food drive and church picnics. The 3rd quarter meeting is planned for September 12 at Ascension Church hall at 12 noon.
The above photo is Helping Hands Day at Ascension Church.