Lodge News
Lodge 81 August News
August 5, 2021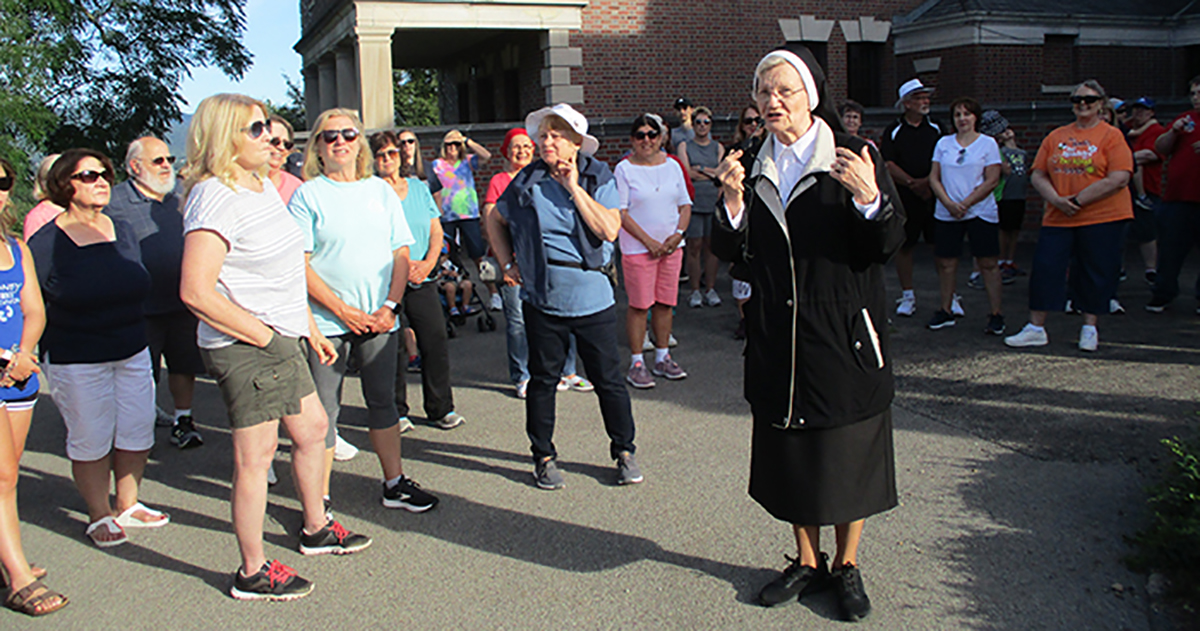 Between church and community activities, Lodge 81 had a busy start to the summer.
Community
The annual Helping Hands Day at Mount Saint Macrina was held on Saturday, June 5. Only outside work was allowed in accordance with CDC guidelines and restrictions. Bonnie Balas and other parishioners cleaned benches, Stephen Petruska worked at cleaning around the Trinity Center and Gerry Dorobish along with her sister Linda Zungri planted flowers. This was in preparation for the 87th Annual Pilgrimage to be held on Sunday, September 5 with all outside services. Through the summer Gerry also continues her services at the Religious Gift Shop and maintaining and weeding the flowers on the grounds.
As part of the Fayette County Fitness Program, the second Walk for Fitness was held on Wednesday, June 23, at Mount Saint Macrina. Sister Barbara Jean Mihalchick directed the walking tour. Over 100 participants were very enthusiastic to learn about the history of the monastery and its buildings. Bonnie Balas took photos for Sister Barbara Jean and Gerry Dorobish was on hand for Religious Gift Shop sales.
Bonnie Balas and Gerry Dorobish have continued with the Sunday Rosary Group and have welcomed visitors from other churches. Some have even come from West Virginia and also from the Windber, PA parish.
On Thursdays during July and August Gerry Dorobish continues to be involved in the Uniontown Public Library Summer Reading Program. Gerry has participated in the program for many years. She reads to groups of children, does craft projects with them, tracks their summer books read and distributes free books.
Greater Community
On Saturday, June 26, Mark Jesko and Bonnie Balas participated in "Doors Open Pittsburgh," a program whose mission is to educate and stimulate the exploration and appreciation of Pittsburgh's architecture and history. This event featured Homestead with exhibits in historic buildings, churches, etc. The Carpatho-Rusyn Cultural Center (the former Cathedral of the Byzantine Archdiocese) was the 4th site on the list of structures to visit that day. Bonnie displayed, demonstrated, and sold Carpatho-Rusyn embroidered basket covers and cookbooks, while Mark Jesko demonstrated, displayed and sold drop-pull design pysanky. Maryann Sivak coordinated the event which proved to be a wonderful cultural event.
Mark Jesko and Judy Shaul attended an icon painting retreat in Waymart, PA with master iconographer Peter Pearson, from July 11-15. The icon was "the Washing of the Apostles' Feet." Mark plans on donating his finished icon to a church or a monastery.
Parish
Memorial Day services were held on Sunday, May 30 at St. John BC Church Cemetery with many Lodge 81 members in attendance. Stephen Petruska led the responses for the Panachida. Stephen also cantors Sunday Liturgies and Holy Days.
Looking Ahead
Lodge 81 held its quarterly meeting on Sunday, August 8, after the Divine Liturgy. Plans were made for the lodge's role in the Annual Rosary Walk (Sunday, September 19), The Annual Food Drive (date to be determined) the 15th Annual Car Show (Sunday, September 26) Helping at the 87th Annual Mount St. Macrina Pilgrimage (Sunday, September 5), and the 39th Annual Carpatho-Rusyn Celebration which will be somewhat modified (Sunday, October 31).