Lodge News
Lodge 66 October News
October 8, 2021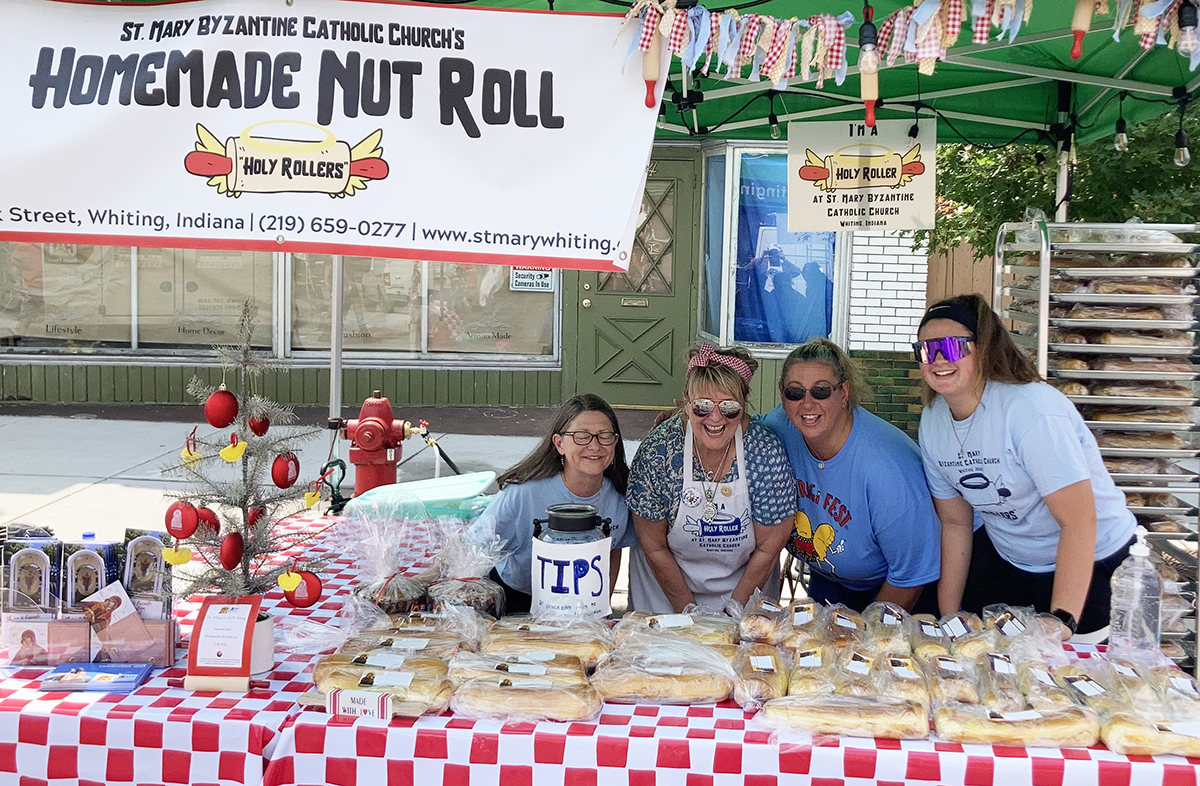 Parish Growth
GCU Lodge 66 is an active part of the renewal at St. Mary Byzantine Church in Whiting, IN. The parish has seen unprecedented growth in the last three years, with an over 40% in attendance at Sunday worship and a 78% increase in giving. Two GCU members have been essential to the renewal: Donna Tang and Peter Baranko. Donna Tang leads the group of "Holy Rollers" who help make nut rolls on the weekend. Both work with ten other parish members, as well as members from GCU Lodge 66 to make nut rolls.

Pierogi Fest
St. Mary's primary outlet to sell is Whiting's Pierogi Fest. The third largest summer festival in the state of Indiana, Pierogi fest sees over 100,000 people come to the town to enjoy Slavic foods, music, dancing, and fun. For the last several years, St. Mary's Holy Rollers have been on the street selling their wares, offering church tours, and welcoming visitors to its weekend services. With the assistance of GCU Lodge 66, St. Mary's Holy Rollers rolled over 600 nut rolls to sell at Pierogi Fest, which sold out before the end of the three-day festival.
Luncheon, Lecture and Donation
On Sunday, September 19 GCU Lodge 66 members attended the Sunday Liturgy at St. Michael Byzantine Church in Merrillville IN. Members gathered after mass in the hall where Secretary-Treasurer Peter Baranko served homemade chicken soup followed by a salad. At noon they enjoyed a meal of Polish sausage and sauerkraut, broccoli, mini potatoes and dessert from Paul Kaderabak celebrating his birthday. After the luncheon Professor Stephanie Baranko Lincoln, a doctor in nursing education at Indiana University NW, gave a presentation on Insulin Resistance, then answered many questions. Following the talk, President Veronica Bodak, presented a check for $5,000 to Father Andrew Summerson from St. Mary Byzantine Church in Whiting for their Pierogi Fest fund raiser plus GCU Parish Matching Funds.


Pictured above is Denise Seeger, Donna Tang, Lisa & Caitlin McEnery.