Lodge News
Lodge 258 August News
August 5, 2021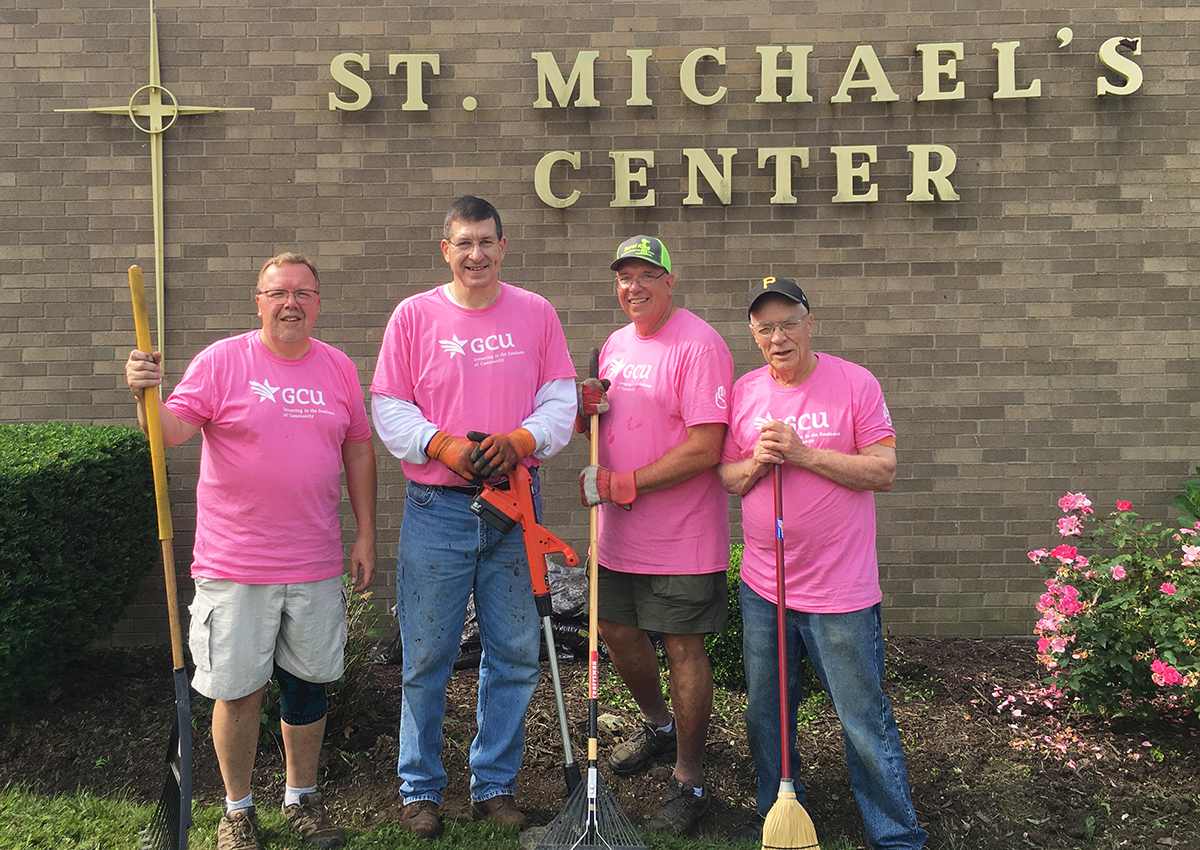 Helping Hands Day
On Saturday, June 12, members of the lodge and volunteers from the parish, gathered to improve the landscaping at the St. Michael Social Center. The group trimmed hedges, weeded flower beds, weed whacked edges, put down new brown mulch and worked on the "Burning Bush Island", near the flagpole. Thank you to the GCU Home Office for providing the colorful pink t-shirts for our volunteers! Also, thank you to Lodge 258 for providing financial support through a Helping Hands Grant. Thank you volunteers for all the hard work!
Flag Day Celebration
During the weekend of June 12-13, GCU Lodge 258 sponsored a Flag Day Celebration at St. Michael Byzantine Catholic Church. After the Saturday evening and Sunday morning Divine Liturgies, parishioners were treated to "grab and go," individually wrapped, iced sugar cookies in the shapes of the USA flag and red, white and blue stars from DiLorenzo's Bakery in Sharpsville, PA.
GCU giveaways including USA Flag lapel pins, large blue plastic cups, sunglasses, and M & M snack bags were also available. At the end of the Sunday Liturgy, Rev. Fr. Kevin Marks blessed the new USA and Vatican Flags which were purchased by Lodge 258 and donated to the church.
Parishioners and guests then gathered at the Social Center flagpole for a ceremony and to raise the new flags. The program ended with the singing of the always emotional, "God Bless America."
Special thank you to Mike & Alyssa Vasil for taking and contributing all of the wonderful pictures of all of the activities. They also made arrangements with the local Hermitage Volunteer Fire Department to help replace the old flag pole rope with a new rope which will serve us for years to come!
Surprise Birthday Celebration
On Saturday, June 26, following the Divine Liturgy, members of St. Michael BC Church held a surprise birthday for their pastor, Rev. Fr. Kevin Marks. It was such a well planned surprise, that Fr. Kevin was unaware and was unable to attend because he was concelebrating an ordination in Pittsburgh. So the parishioners sang, "Happy Birthday," recorded it on a cell phone and sent him the video so that he could enjoy the surprise! The attendees then enjoyed cake and lemonade. When Fr. Kevin returned on Sunday morning for the 9 AM Divine Liturgy, the parishioners sang "Happy Birthday" again, and presented him with a gift card and a beautifully decorated large card signed with well wishes from the parishioners. Fr. Kevin blew out his candles and everyone enjoyed another round of birthday cake and coffee. Special thanks to GCU Lodge 258 for providing the refreshments. Happy birthday Fr. Kevin and thank you for all that you do for our parish and the Archeparchy!