Lodge News
Lodge 254 August News
August 5, 2021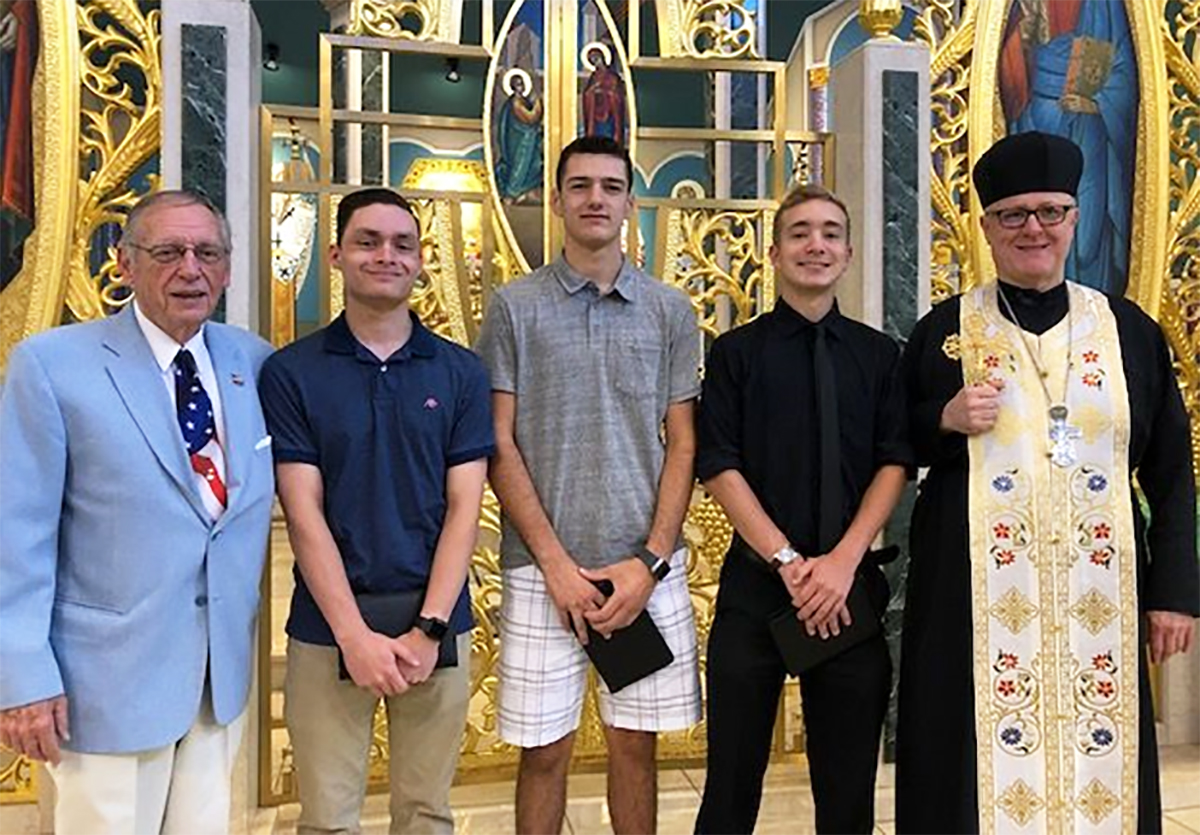 Scholarship Awards
On Sunday, June 13, 2021, at St. Mary Byzantine Catholic Church, GCU Lodge 254 presented $500.00 scholarships to three high school graduate parishioners.
The scholarship awards were presented to the recipients before the 8:30 AM Liturgy with Father James Badeaux, pastor, and announced by Lodge President Professor Elias Zareva.
The recipients of the GCU Lodge 254 Scholarships were:
Brandon DiCorcia—a graduate of Hillsborough High School. He has volunteered with various high school fund raisers, the Special Olympics and Becca's Friends. He has been an altar server and is a member of the ByzanTeens. He has been a parish volunteer delivering Paska baskets to the homebound and assisted with the Tricky Tray fund raiser. His family is active church members. Brandon plans to attend Lincoln Technology Institute with the goal of becoming a welder.
Nicholas Hlinka—a graduate of Voorhees High School where he has been active in playing tennis and ice hockey. He has been an altar server at Saint Mary Byzantine Catholic Church for ten years. Nicholas plans to attend Wentworth Institute of Technology in Boston, MA to major in biomedical engineering.
Andrew Kibalo—a graduate of County Prep High School in Jersey City, NJ where he was a member of the Math Honor Society and the Internet Club. He was a volunteer for the York Street Project and is a member of the Civil Air Patrol, having been named the AFA Cadet of the Year. Andrew has been a volunteer for church bingo on Saturdays. His father, Paul Kibalo, is an active member of the church, as were his grandparents. He plans to attend The College of New Jersey or the US Air Force Academy and his goal is to major in finance and become a financial advisor or manager.
After the awards introduction and Liturgy, a lovely reception followed in the Fellowship Hall for the the awardees, their families and fellow parishioners.
Congratulations to Two of Our Members
Lodge 254 presented graduating 8th grader Tatiana Hlinka with a floral bouquet as thanks for her work in coordinating the recent Clothing Drive at St. Marys' for her Girl-Scout Troop. Tatiana was also recently recognized by her Middle School for her many achievements during the school year.
mong the many citations received (15) were awards in Academic Excellence, Community Service, Music, student council & orchestra. Tatiana raises bees, carrying on a family tradition & was assisted by her Grandfather, Vasil Hlinka. She is also a member of our church choir. Congratulations Tatiana.
During the Scholarship reception on June 13, Lodge 254 presented Fr. James Badeaux with a cake to celebrate his 22nd year of ordination. Congratulations Father Jim. May God Grant You Many Years.

Above are scholarship recipients Andrew Kibalo, Nicholas Hlinka and Brandon DiCorcia, with Professor Elias Zareva and Fr. James Badeaux.