Lodge News
Lodge 151 August News
August 5, 2021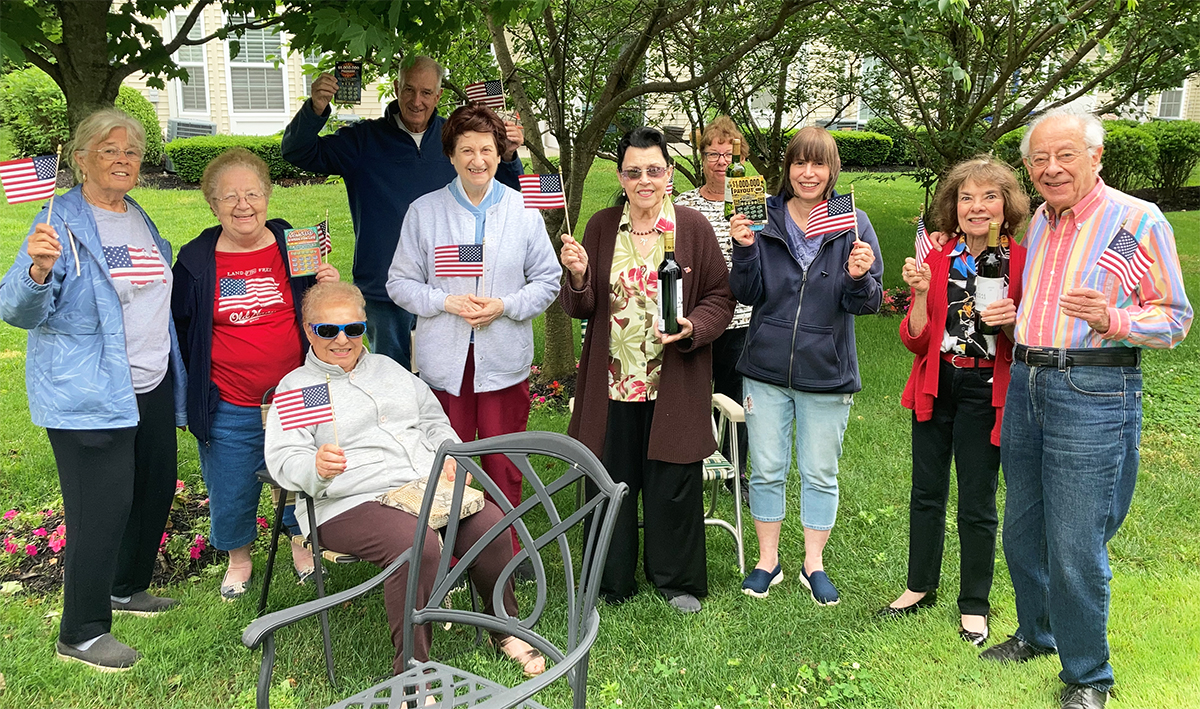 Congrats to our Youth Members
Phillip Barrigato was awarded his Eagle Scout Badge recently at a Boy Scout Court of Honor. He is the eldest grandson of Fr. Nick and Dr. Maureen Daddona. Philip's Eagle Scout project benefitted the Sisters of St. Benedict and residents of St. Joseph Home for the Aged in Huntington, Long Island. He directed a crew of eager Scouts and his family in the construction and installation of three benches for the facility's walking path, their prayer garden and cemetery. His landscaping design added plants and helped to beautify the location. He also revitalized the existing stone statue foundation. The benches provided a place of prayer and meditation for the Sisters, residents, and visitors. Philip will be attending Siena College in the fall.
On June 13, GCU member Nicholas Mamay graduated Calhoun High School in Merrick, Long Island. Nick played lacrosse and football. He participated in the school's program "Athletes helping Athletes" in which he went to various elementary schools and spoke to student athletes to help them make smart life choices. He will be attending The Ohio State University and be part of the School of Business Honors Program majoring in finance. His family is very proud of his accomplishments.
GCU member Kate Elias is a state champion swimmer for girls 11-12 years old in Michigan. She's 5 for 5 gold medals with one more event to go. Her parents and grandfather Mike Knapp are very proud of her.
Flag Day Celebration
Flag Day was celebrated at the Seasons on June 14. About 50 people brought their chairs to listened and sing along to Ed Silver playing patriotic songs on his saxophone and guitar. There was a trivia game about the Flag with winners receiving scratch off tickets and wine as prizes. It was a very patriotic day.
Returning to a Normal
Laura Mulhfeld states that things are returning to normal at St. Nicholas Church in Whitestone, NY. More people are attending services in person and parishioners who have been vaccinated no longer have to wear masks in church. On Sunday July 4, the parish resumed its traditional coffee hour following Liturgy. In honor of Independence Day, the parish had a holiday picnic. Seats were available at the outside picnic area and in the church hall. Hot dogs, hamburgers, chips, an array of salad, fresh fruit, brownies and cake were served. American flags and pins were distributed to those present. Everyone enjoyed the opportunity to celebrate our nation's birthday.
Golf News
Marge Russell has been enjoying the summer golfing with her grandchildren Ryan Pajer, Paul Mamay, Nicholas Mamay and her son Russ. Her son in law Mark Lalley was golfing at a tournament in Buffalo and got a hole in one. It was a par 3 - 172 yard hole. What an awesome accomplishment.
Catching Up with Paul Dietz
Lodge 151 Paul Dietz retired last year and now drives a school bus. At the end of the school year, he took a 17-day, 6,300 mile road trip through 19 states. The purpose of the trip was just to get away after COVID. Paul visited the Pima Air and Space Museum in Tucson, AZ and a couple of tourist railroads. Along the way he visited his cousin Mike Knapp who recently moved to Michigan. They had a great time reminiscing about family, friends and the New York Sokol Sunday Bowling League. He also visited his niece Renee Dietz and his nephew Eric Dietz during his travels.
His immediate family is doing well. His wife Margie continues working at an assisted living facility, his son George and his wife Liz are in Salem MA, where he works as an arborist. Their daughter Martha and her husband Tim are moving to the Greensboro, NC area, where Tim recently accepted a new job. His youngest son Andrew, is still at home and has started his own business called Slablab, making furniture and other woodworking items such as custom cutting boards.
Looking Ahead
Lodge 151 is planning on having its third quarter meeting on September 12. Save the date and you will be notified where the meeting will be held. Enjoy the rest of your summer.
Above are the winners of the Flag Day activities.