Lodge News
District 5 October News
October 7, 2021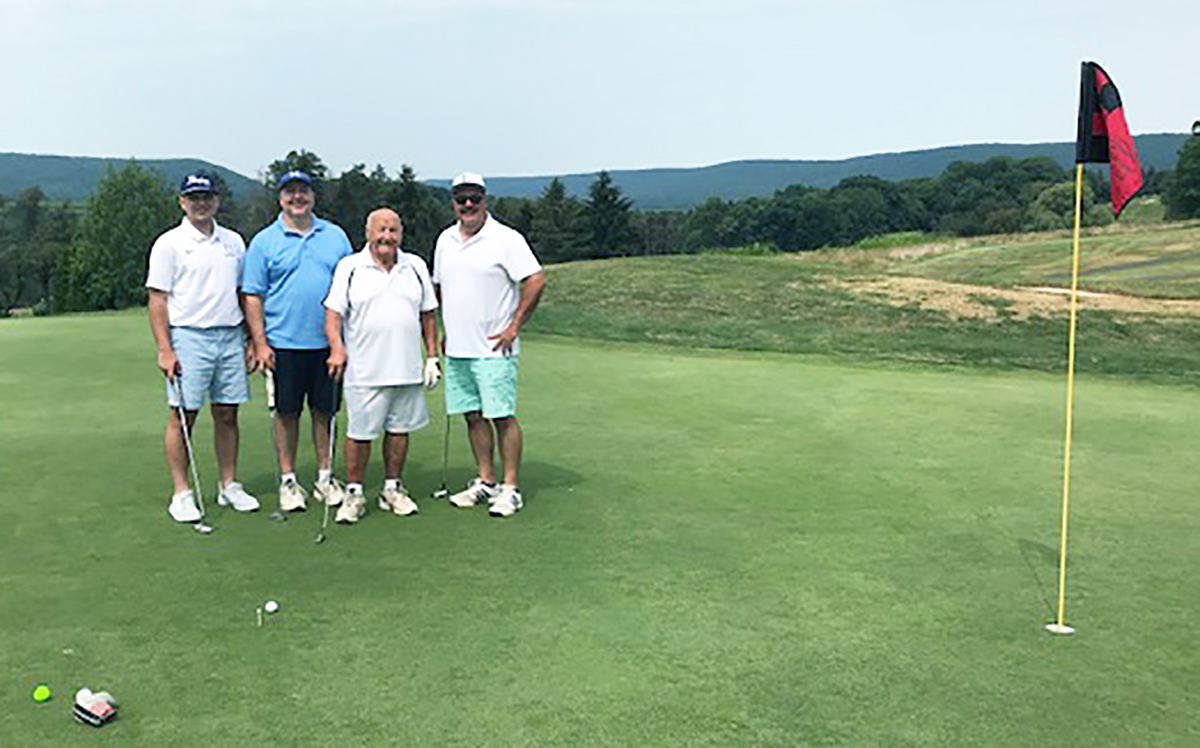 Annual Golf Tournament
The annual District 5 Golf Tournament was held on Saturday, August 7 at Sugarloaf Golf Club. The 63 golfers in attendance observed all COVID-19 guidelines. The team of Ed Keil, Keith Hampton, Anthony Shaver and Ryan Hettes, last year's champs, repeated with a low gross of 58. The team took home trophies (engraved clocks), along with a monetary prize. First Flight—low net 1st place: Gary Norconk, Jim Gurnari, Frank Picchi & Lou Masgay; 2nd place: Mark Pegula, Chris Petigrew, Brian Hamilton & Tim Pane. Second Flight—low net 1st place: Jon Fiorelli, Ryan Cardoni, Dave Seman & Aaron Koval; 2nd place: Gary Nobel, Doreen Nobel, Denise Evans & Bob Faneck. Third Flight—low net 1st place: the Guarnieri team of John, Lou, Bridget & Margaret; 2nd place was the Pezak team of Paul, Stanley, Gary & Corey.
Winners of proximity prizes were: Chet Studenski, Denise Evans, Anne Marie Neary, Sue Grohowski, Donna Zapotek, Collin Krokos, Joe Hardisky, Joe Castrogiovanni, Mike Seman, and Frank Picchi. Sixteen golfers hit the green on Hole 17, for a share in the Pot-of-Gold, Joe Carnevale, John Dolinish, Steve Doziak, Jon Fiorelli, Diane Grega, Lou Guarnieri, Keith Hampton, Ken Killino, Collin Krokos, Bob Montville, Matthew Montville, Gary Nobel, Corey Pezak, Paul Pezak, Andrew Schukraft and Jim Slabinski.
One could not ask for a better day to be outdoors. The weather was perfect for golfing. The tournament concluded with the traditional pig roast with all the trimmings, followed by the presentation of tournament winners and a door prize for all. Thanks goes out to the GCU Home Office for the Fraternal Grant for door prizes, GCU bags with sunscreen, hand sanitizer and the preparation of entry forms. Thanks also to the hole sponsors and prize donors and all the participants. A special thank you to Pot-of-Gold and Hole-in-One verifier, Janice Dragan, who gave up her Saturday to sit on Hole 17. Save next year's date, Saturday, August 6, 2022.
Pictured above is Corey, Paul, Stanley & Gary Pezak