Lodge News
CPRL February News
February 14, 2023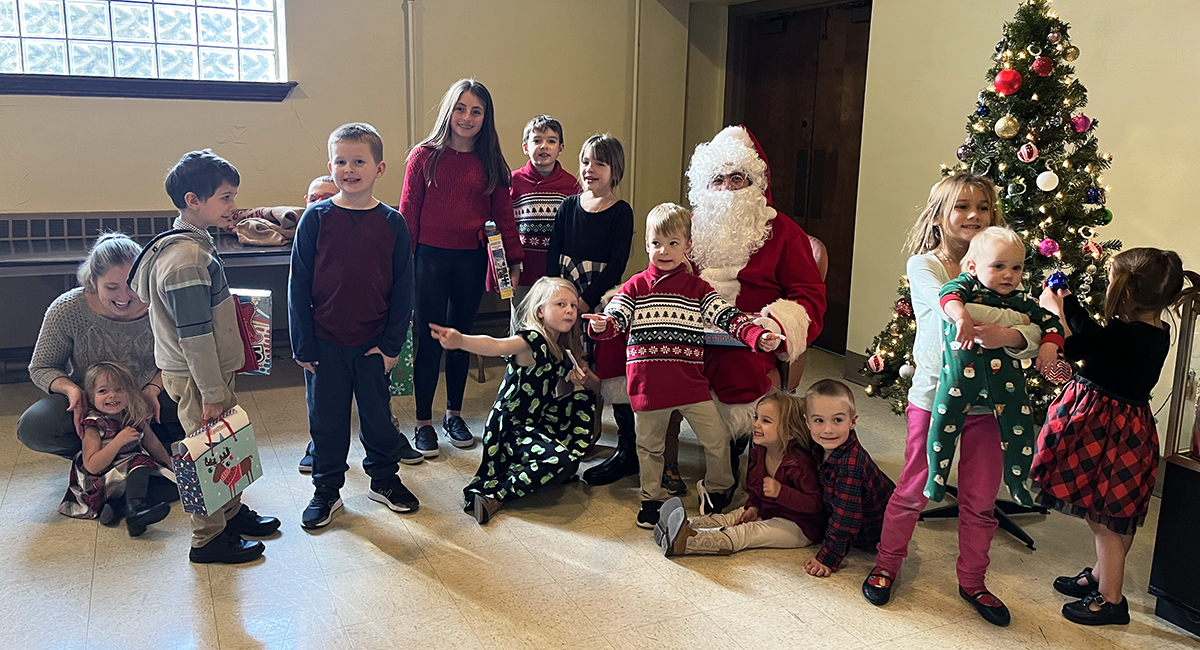 Kids' Christmas Party
On Sunday, December 4, 2022, approximately 70 people attended the holiday party at St. John Chrysostom church hall, Greenfield. As the children entered the hall, they were guided to the cookie table to decorate their own cookie complete with colored icing, sprinkles and festive M&M's.
Once everyone finished and was seated, Fr. Miron said a blessing before eating. Big Jim's pizza, a veggie/cheese tray, bags of snacks and lots of candy were on the lunch menu. A special thanks to the two church members who donated a tiered tray of Russian candies and a huge variety bag of Mars brand candies. They were both a big hit.
Games started simultaneously with lunch; if you were one of the lucky ones with a sticker under your plate, you won a door prize. Raffle prizes and the Left-Right game were held later in the afternoon.
Next, Puppet Works performed a 45-minute puppet show entitled, "A Christ Mouse Tail". The children and adults sat mesmerized during the show. A story line was interspersed with singing of Christmas carols. It was fun for people of all ages.
Following the show, the congregation was led in singing of the "Hymn to St. Nicholas" by the beautiful voice of Fr. Miron's wife. St. Nicholas (my boss, Jordan Hartman, was recruited and played the role very well) made a visit and gave all the children a $1 gold coin to save or spend.
Once the children finished visiting, talking and taking photos with St. Nicholas, Jingle Bells was sung to bring out Santa Claus. Santa (church member Bill Sacco was fantastic) arrived with a bag overflowing with presents. Each child's name was called to accept their gift. Some were eager to sit on his lap while others were a bit leery; some just cried right away. In addition to the present, a gift bag and a hardback holiday book were also given to each child.
Thank you to everyone who helped with this event. It is very rewarding to see the happiness in the children's faces.
St. John the Baptist Matching Funds Events
The last quarter of 2022 was a busy one. Three church Matching Funds events were held to utilize the total allowable yearly Matching Funds.
First, for several weeks in October, a food drive was held. During the holiday season (Thanksgiving and Christmas) many people are in need of food. Happily, 190 nonperishable food items were collected. They were divided between St. Cyril of White Lake Food Pantry inside St. Mary's Holy Assumption Orthodox Church and St. Paul's Monastery. Both are located close to St. John Church on the South Side of Pittsburgh. These were chosen to keep the donations within the local community.
Second, a toy drive was held during part of the months of November and December. Over 100 toys and gift cards were collected. They were distributed evenly between Brashear Association and LePetite Café. The café worked with Thick Bike, Churn and Cupka's to host a Breakfast with Santa.
Third, a Soles4Souls shoe drive was held for one week in December. For just that one week, 57 pairs of shoes, boots and tongs combined were collected. These were mailed to the Sole4Souls headquarters where they were distributed to areas of need.
These events were great successes. The remaining Matching Funds of approximately $2,300 were reached and a check was presented to St. John the Baptist, South Side. It will be used for necessary repair work and utility bills.