Lodge News
CPRL February News
February 8, 2022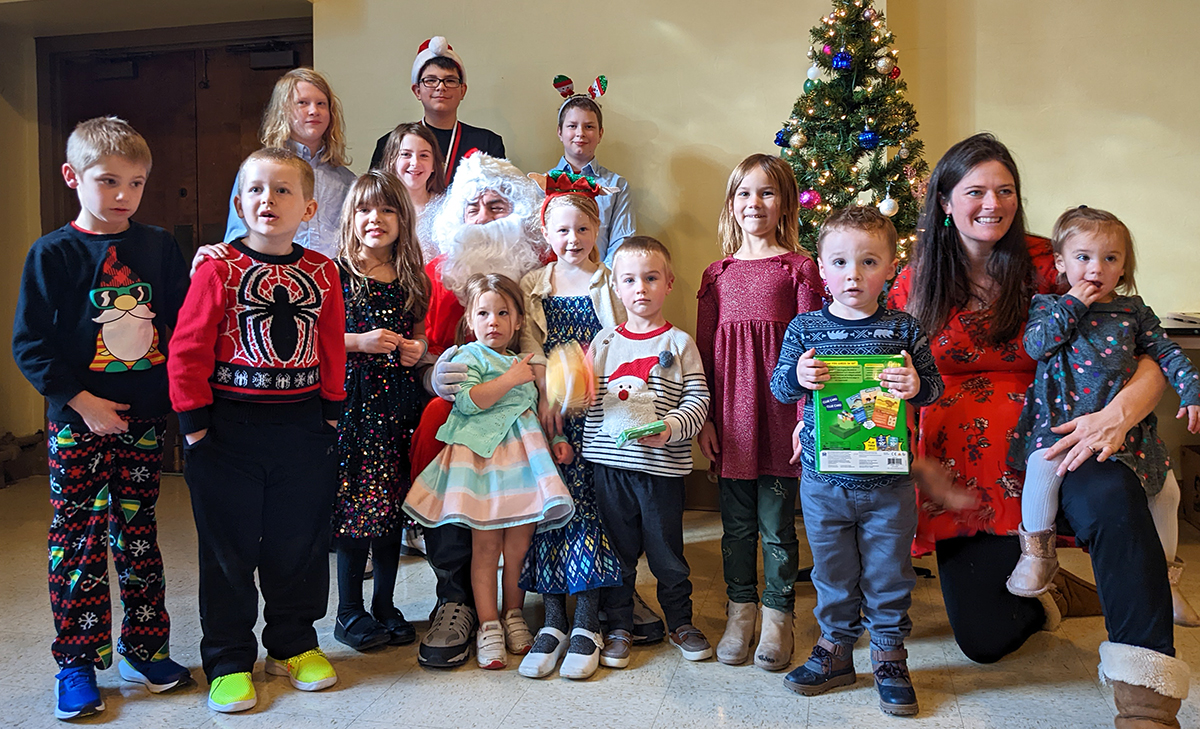 Children's Christmas Party
On Sunday, December 12, 2021, nineteen children plus their parents gathered at St. John Chrysostom church hall for a fun afternoon. The hall was festively decorated for the Christmas season.
The party began with each child receiving a gift bag upon arrival and going to the cookie table to create their own masterpiece. Next, a pizza lunch and more was served.
With a full stomach from lunch, adults partaking in the ugly sweater contest were called to the dance floor. They were each assigned a number. The entertainment (as impartial judges) chose the ugliest sweater, first runner up and the prettiest ugly sweater. The three winners were given a wrapped gift. The next game played was the Left/Right game. It was played twice: once for kids and once for adults. Everyone had a fun time passing the gift around.
Josh and Gab were the entertainment. They are well known and perform at various school assemblies and more throughout the area. They played instruments and sang both Christmas and popular songs (complete with dance moves). The kids and adults were on the floor dancing for the whole 45 minutes.
As they finished singing Jingle Bells—Santa arrived in the hall! He came in and sat in a chair next to the Christmas tree and the children happily ran up to him as their names were called to receive their gift. They also had a chance to sit on Santa's lap for a photo and to talk to him.
The day concluded with many adults and kids winning their choice of door prizes. Thank you to all the lodge and church members who helped make this event a huge success.
Holiday Toy Drive
GCU and church member Barb Rebovich conducted a holiday toy drive during the month of December at St. John the Baptist Church. A wide variety of beautiful toys were collected for boys and girls. These toys were then given to the Deaf Blind Lions Club of Pittsburgh to pass out to children in need during this 2021 holiday season.
A dollar amount was assigned to each toy with over $1,200.00 matched by the GCU Matching Funds program.
Welcome Fr. Michael Kunitz
Holy Spirit Church in Oakland celebrated a welcome Divine Liturgy for our new administrator, Fr. Michael Kunitz, on Sunday, January 2, followed by an expanded fellowship meal. It was an enjoyable time of conversation and we all wish for a successful future for Fr. Michael and our parish!"
On Saturday January 15th St. Pius X Church in Carrick also had a "meet & greet" with Father Michael and his wife Janine. After a Divine Liturgy, we gathered for lunch and conversation. We are so happy to have them join our praying community!
2021 Community Matching Funds
For 2021 Community Matching Funds, one of the four nonprofits to receive a CPRL donation was Whitehall Library.