Events
62nd Annual St. Nicholas Celebration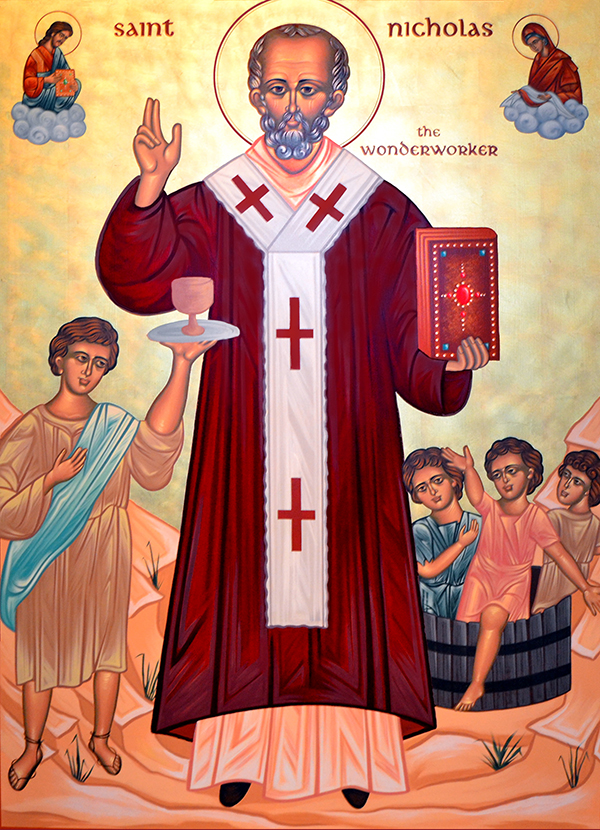 St. John the Baptist Cathedral & Center
210 Greentree Road Munhall, PA 15120
Moleben at 3 PM
Dinner at 5 PM
Benefits the Byzantine Catholic Seminary.
The Annual Saint Nicholas Celebration will be celebrating its 62nd anniversary this year. The annual dinner for the benefit of the Byzantine Catholic Seminary of Saints Cyril & Methodius, will take place on Sunday, December 9, 2018 at Saint John Cathedral and Center in Munhall, PA. This is the only event of the year which is held for the seminary's benefit.

Preceding the event a Moleben to St. Nicholas is celebrated in the Cathedral. The Moleben celebrant will be Very Rev. Robert Pipta and the homilist will be Rev. Thomas Schaefer.

As in the past, a commemorative program booklet for this annual Archieparchial observance will be published. Your contribution as a sponsor helps ensure the present and future of the Archeparchy and Metropolitan Church. We look forward to adding your name to this year's generous group of supporters.

Below are links to the Contributing Sponsor and Reservation Forms.

The menu for this year's event includes: Tomato Parmesan Bisque, Tossed Salad, Pork Tenderloin with Dried Cherry Brandy Compote, Twice Baked Potato, Julienne Vegetables with Roasted Asparagus Spears and Homemade Baked Goods for dessert. There will be a separate dinner selection for children age 12 & under. Tickets for the event are $40 per adult and $18 per child age 12 and under. Once again this year, Fr. Andrew Deskevich will be selling holiday rolls (nut, poppyseed, apricot and apricot/nut) at the event, with the proceeds benefitting the Seminary.
A six member Swing Band will be the musical performers at this year's event.

To make it easier, you can now complete and pay by credit card for both the Reservation Form and Sponsor form via the link below. Select the form you would like to complete & pay for and follow the on-screen prompts.

All sponsorships and ticket reservations must be received no later than Monday, November 19, 2018. We hope to see you at this year's event.

We extend our sincere gratitude for your consideration of this very worthy cause.

Fraternally yours in the Lord,
Saint Nicholas Celebration Committee